Manchester Theatre News & Reviews
REVIEW - Manchester is feeling the love of The Lion King - Long live the King!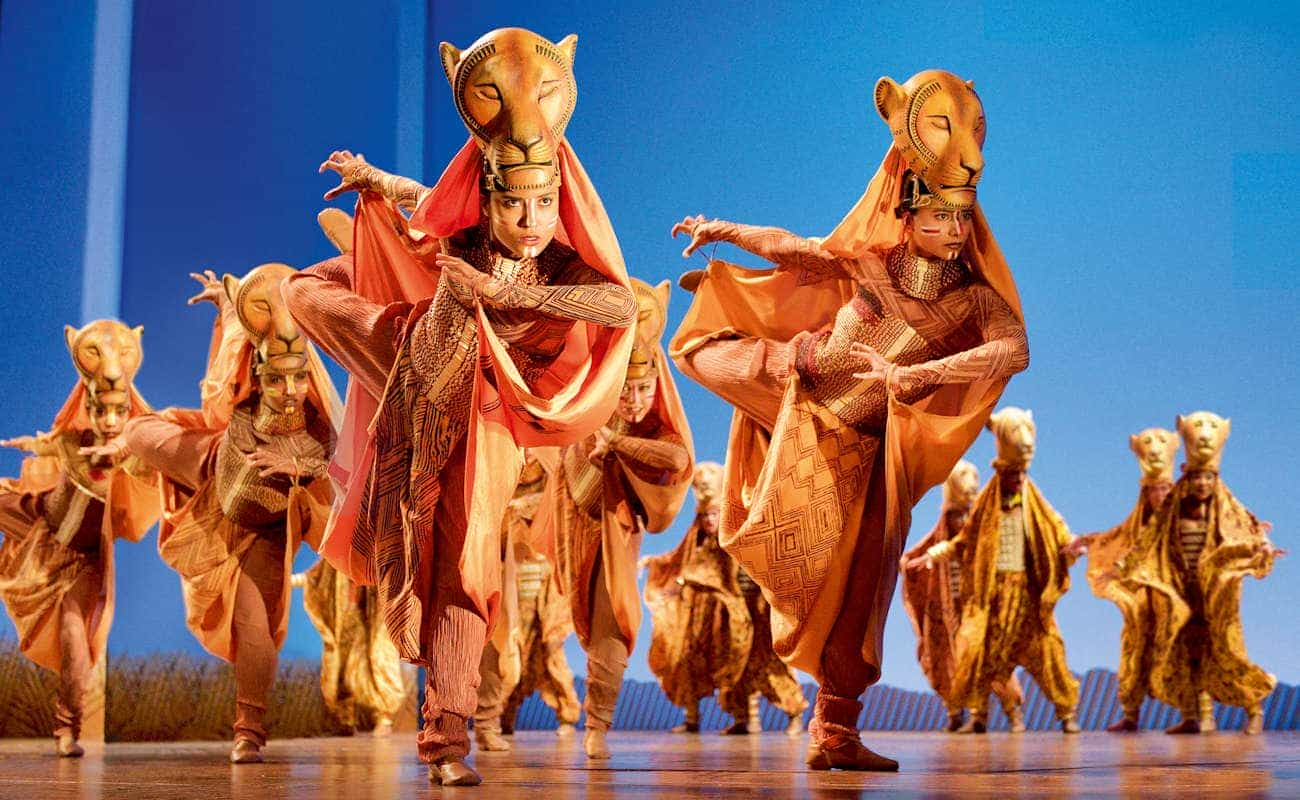 BOOK THE LION KING TICKETS HERE!
We were one of the lucky ones to attend the press night of The Lion King on Tuesday at the Palace Theatre, Manchester. Read what our reviewer Karen Ryder had to say about Disney's perfect family musical...


"Nannnnnsss igonnnniyaaaa! Baggabitinaaahhhh, sita ummmmm benya bahhh"
If those garbled bunch of letters above, which I can assure you bear no actual resemblance to the real lyrics, mean anything to you at all, then right now you will be picturing a glorious sun rise, deers tilting their heads in the morning glow and birds soaring across a flame lit horizon. That is the power of The Lion King! That is what will give you goosebumps on your goosebumps within the first few seconds of the show starting, and that is why you simply have to be a part of the Disney magic. I go to the theatre A LOT, for both work and pleasure, and I cannot think of another show where just one song in I have tears rolling down my cheeks at the sheer abundance of joy, and the overwhelming nature of my emotions at the spectacular experience I have just encountered. It is incomparable and as you reconnect with that excited inner child as your imagination is ignited, you simply will not know where to look or fathom how to take in everything presented before you. It is the most joyous encounter where nature meets theatre magic, and it is right here in Manchester! No wonder it was announced earlier this week that The Lion King has extended its already epic run till the 11th March 2023, making Manchester it's home for a whopping 19 weeks! I don't need to eat right? Or heat my house? I can just keep returning to watch it time and time again!
So, unless you have been living under Pride Rock then you will know the story of The Lion King, and if you're anything like my family, will have re-enacted its scenes with the younger members countless times. Mufasa is King of the Pride Lands and as he announces the birth of his son and future King Simba at a ceremony, the animals rejoice. Mufasa rules with a respectful command and adheres to the balance of nature and the circle of life, ensuring he is admired by all. All except his brother Scar that is, who has suppressed his bitter jealousy for years in the hope that one day he will take over as King, but now Simba has been born, that day will never come. As Simba playfully practises his hunting with friend Nala, Scar is plotting his death. Time after time Scar tries and fails to make Simba disappear, so when Mufasa runs to rescue Simba from a stampede created by Scar, he grasps the opportunity to kill Mufasa. A traumatised Simba believes Scar when he is told it's his fault the King is dead and he must run. Run and never return. Enter Timone and Pumba who unknowingly raise the future King, until one day Nala shows up looking for help as Scar has over hunted and decimated the Pride Lands. As they fall in love, this loyal and quirky army head back to claim what is rightfully Simba's. Lots of roaring later, Simba wins, has a son of his own, and the circle of life continues. It's all a bit Hamlet and it's all a bit brilliant.
The stage production of The Lion King was ground breaking when it was first staged and there is still little that can touch its genius today. With exemplary design by Julie Taymour, animals are brought to life in a unique and credible way, ensuring that we believe completely in the character and accept their stories, rather than being reluctant to cheer on a cutesy fluffy lion cub. The brilliance is that nothing is hidden. The mechanics of the puppets, the masks, the set and the movement of the animals is unashamedly on view for all to witness, adding a brilliant new element for audiences everywhere and engaging even those who are reluctant to admit that they love this Disney classic. But we all know that Disney is genuinely for any age and the production and message (and some of the adult only jokes) behind this show prove that tenfold. I know I gained a whole new perspective watching it this evening than when I first watched it in my early twenties. It is a show that grows old with you, presenting new messages and meaning depending on where you find yourself in life. I have never wiped away so many sneaky tears as I did tonight for example in the beautifully bonding father and son song by Mufasa of "He Lives In You."



There are endless moments to gush about in The Lion King, from the mesmerising "I Just Can't Wait To Be King," where an impressive curtain drops down and provides plenty of reveals, including moving floats and giraffes that bow down into the audience, to the mesmerising "He Lives In You Reprise," where lights are used to truly create beautiful art and collect together in waves to produce Mufasa's reflection in the water. I was in awe at the sheer brilliance of how this was put together, and it's really hard trying to review something when you want to talk incessantly about every detail but equally want to allow others to savour the moment and the magic for themselves. Just when you think you've seen it all, inflatables are introduced, shadow puppets astound, cast members continually surprise you with their entrances. There's flying, dazzling colour, and the intrinsically genius use of size and perspective to create a stampede and show the wildebeest getting closer. Heck, even Bury market gets a mention - I kid you not! This show is a spectacle, and each number brings a new level of magic, excitement and wonder to the stage. It will blow your winter socks off. "Be Prepared" by Scar is one of my favourites for it is such a pivotal moment and you feel this deep in your core from the shivers down your spine, to the hairs on your arms standing to attention. It's difficult to explain as the whole show ignites all of your senses, and then a few more you didn't even know you had!



Jean-Luc Guizonne (international Lion King tours, Chicago, Moana) is thoroughly stunning, commanding, and regal as Mufasa. His rich deep voice grasps you by the heart and his stage presence is definitely fit for a King. Its hard to take your eyes off him. Richard Hurst (The Bodyguard, Sunny Afternoon, Eastenders) is outstanding as Scar and his dry, dark cynicism drips deliciously from his every word and move. He embodies the character with every nuance of his being. They make for a thrilling combination during their scenes together, complimenting each other through their contrasting character qualities. Thandazile Soni (international Lion King tours) is incredible as Rafiki. The click language used (Xhosa - a Nguni Bantu language and one of the official languages of South Africa) is hypnotic in quality and I could have listened to far more. Loveable, wise, funny and with an air of something that quite frankly transcends words, you can't take your eyes off her either. Matthew Forbes (War Horse, The Good Life, The Wizard Of Oz) blew my mind with his utterly convincing puppetry as Zazu and his relentless energy throughout. His voice alone draws you in, and a British humour shone through. Alan McHale (The Clockmakers Daughter, Oliver With A Twist, Macbeth) and Carl Sanderson (Sweet Charity, That Day We Sang, 42nd Street) are comedy gold as Timon and Pumbaa. Again, their puppetry was phenomenal. They know exactly how to work an audience and gained the most giggles from the children in the audience. Stephenson Ardern-Sodjet (Hamilton, As You Like It, Macbeth) is enchanting as Simba and Nokwanda Khuzwayo (The Lion King international, How Long Musical) is mesmerising and powerful as Nala. The duo are playful and powerful, gentle and fierce, and their cat like moves are purrfect (sorry!). Their duets are sublime, their solos stunning. They leap across the stage with such ease, making it look so easy you start to believe you can do it yourself – until reality kicks in and you trip over your merchandise bag just standing up to applaud! Rebecca Omogbehin, Simon Trinder, and Owain Rhys Davies blend brilliantly to create the hilarious hyenas and will have you belly laughing at their escapades. This costume, more than any other, had me transfixed and their agility in making it so believable should be applauded. The young Simba and Nala matched the professional standard of every adult on the stage and it was a pleasure to witness our future West end leads in the making. The entire ensemble is out of this world, and if you ever needed proof – their acapella opening of the second act will leave you in no doubt.
And even with all of that - I'm still not finished! Throw in acrobatics, stilt walking, incredible costumes - each entirely unique and a work of art in itself, African drums played within the theatre itself creating a surround sound feel, humour, heartache, pathos, acceptance, and you'll come out feeling inspired, invigorated and like you've had the best free therapy ever because the show is jam packed with so much awe, so much life that it not only entertains to the highest standards, but it offers a gentle and safe way to deal with some of lifes biggest heartaches such as grief, self-doubt, betrayal, responsibility, values and strength during adversity. The Lion King encourages you to find strength and belief in yourself and your abilities. What a gift of a show.
I am thrilled and honoured that I have been lucky enough to watch The Lion King this evening and am beside myself that I am coming again with my family in December. But with an extended run till 11th March 2023, I make absolutely no promise that this will be my last visit to the African pride lands, and feel a rebirth of my nephews favourite game returning as we recreate the numerous scenes! I am certainly feeling the love tonight, so Long live the King!



WE SCORE DISNEY'S THE LION KING...





Disney's The Lion King is on at the Palace Theatre until Saturday 11th March 2023.

BOOK YOUR LION KING TICKETS HERE!




A big thank you to @kimptonclocktower, @thelionkinguk and @palaceandopera for making the evening so special.