Manchester Theatre News & Reviews
REVIEW - The Ocean at the End of the Lane will leave you speechless - A spectacle to experience, to behold and to be bewildered by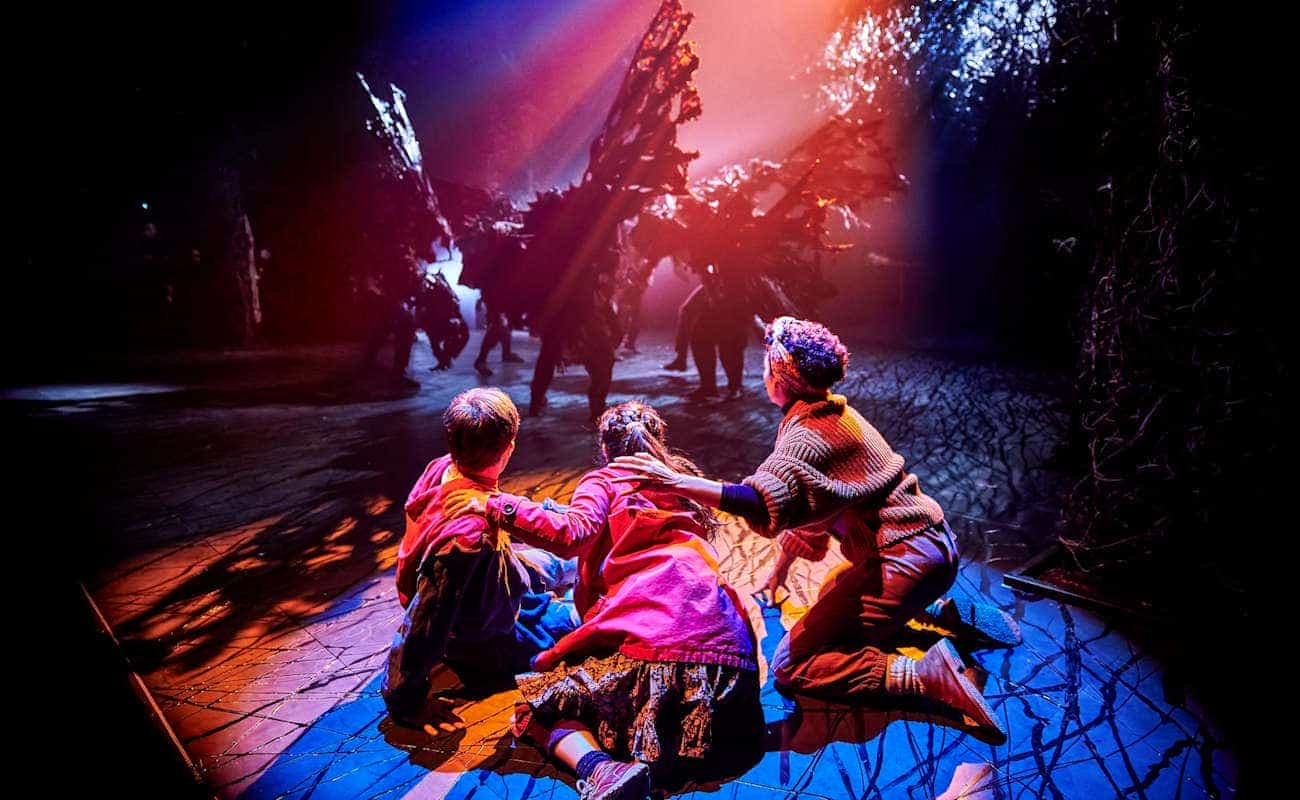 BOOK YOUR TICKETS HERE!
We went to The Lowry on Tuesday to watch The Ocean at the End of the Lane. Read what our reviewer Karen Ryder had to say about this incredible, must-see production...


I don't even know where to begin! The Ocean At The End Of The Lane is beyond! It is beyond words, beyond imagination, beyond needing any kind of review from the likes of a mere mortal like me. I have never seen anything like it, and I've seen a lot of theatre, but this? I knew to expect something special because the second you bibbi de bobbi boo The National Theatre and a Neil Gaiman story together, then the expectation is set high, but never in my wildest imagination did I foresee this level of other worldly wonder. I guess the only thing I really need to say is that you absolutely MUST see this show!
Like any Neil Gaiman story, The Ocean At The End Of The Lane blurs the lines of where reality and imagination begin and end. Things may start out in a world that we, the audience, recognise, but as time shifts, mundane objects ignite impossible memories, and magic meanders its way into every breath, every pulse, every fibre of your being. It is glorious. A man finds himself at an old farm. He has a chat with the old lady living there. It all seems fairly normal. But a simple glass of milk bends the facets of time and we are taken on a journey of remembering, a journey back to the man's childhood where surely nothing can be as it seems? Are these memories real, or are they the product of a lonely boy who read a lot of fantasy books, whose heart was broken, and whose preference was to lose himself in a made-up world rather than face the reality of his own?
The boy befriends Lettie Hempstock, a girl living on the farm, but Lettie seems to know things that she has no way of knowing, and as the boy is drawn deeper and deeper into a world he doesn't fully understand, Lettie is there to guide him through the dangerous twists, turns and revelations that are hiding in plain sight. When he accidentally lets go of Lettie's hand in the woods, he has no idea that in doing so he has invited a creature in from the edge, created a worm hole and ripped his already broken heart into shreds. As the monster from the edge manipulates her way into the boys family and causes dark ructions between him and his dad, we are invited to question which one of them is the monster after all, for the boy must face extreme choices if he ever wants his world to return to normal.
The Ocean At The End Of The Lane refuses to stick to the signposted path of one genre and forages through multiple elements of the supernatural, magic, and fantasy, but it is paradoxically also very rooted in deeply human complex emotions. It is equally witty, heart wrenching, and freakishly scary in places too. The element of surprise and the fluidity of inventiveness guarantee that you never have any clue what is coming. For a modern-day audience to be so malleable is testament to the power of this production.
I am someone who still reads my favourite childhood books all the time for comfort and escapism, so to be indulged with references and direct dialogue from such books throughout this story, hooked me and locked me into the notion of becoming lost in a world other than the one facing you, one where the impossible is perfectly possible and waiting to be explored. After all, isn't that what stories are meant to do? It is a genius approach and as a child and adult whose head was and is always stuck in a book, it makes me feel better about falling down the rabbit hole, walking through wardrobe doors, and only eating porridge that is just right.
The production of this show is out of this world- literally! The use of psychological illusion, slight of hand, magic, and the manipulation of our instinctual primal fears all combine to redefine theatre. There is a creature in the story called the Flea, and my goodness, it is unbelievable. I don't even know what to call the creation of this character. To say it is puppetry would give you a preconception that is so far removed from the reality presented. It is puppetry on steroids that has morphed and blurred the lines of truth and fiction. You know it's not real, except you blindly believe it is. The way the ensemble manipulates this creature is phenomenal and its design is such that you never know where its head will emerge from, or which part of the creature will take dominance next.
Equally, the magical elements also leave you baffled as you watch one character appear from nowhere and yet from everywhere all at the same time in a scene where the boy is terrorised by the now human form of the flea. As the audience are repeatedly plunged into darkness, and cast members appear from everywhere, you feel your adrenalin kick in and it is more than the brilliance of the show that leaves you pinned to the edge of your seat. You watch in awe as people fly, are bewitched and dragged across the stage by invisible forces, and gasp with awe as you suddenly find yourself in the middle of the ocean as it literally washes over your head! Trees move, lights blind, and stomachs churn as a sequence depicts the brutal shredding of one of the characters in such a gruesomely perfect way, you feel both impressed and traumatised at the same time. And as much as I could gush about this production forever – and I will – I can't bring myself to reveal anymore spoilers here. You need to discover the fear, the thrill and the fantasy for yourself.
Neil Gaiman is a much-loved writer, creating over 45 books, novels and short stories. They have been adapted for film, television and theatre, and are known and loved worldwide. With whopping hits such as Stardust, Coraline, and The Sandman, it is difficult to find anyone who hasn't been entertained in one form or another by the brilliance of his unique and individual imagination. He inspires people (and possibly creatures from another world) with his ability to look at life through new eyes time and time again, encouraging life forms of all ages to question the boundaries between the world we know and the ones we have yet to discover. The Ocean At The End Of The Lane has been adapted for stage by Joel Horwood, and directed by Katy Rudd. The result is astounding.
The Ensemble (capital E because they deserve status) of this cast are unbelievable. Not only do they change set and scenery whilst making each movement of a chair or a dolls head another intricate moment of storytelling, they are the force behind much of the magic, from the evolution of the 'flea' to the birth of the ocean, to the most believable forest I've ever seen, where hands stick to faces the same way we would become entangled in the overgrown and unkempt fairy tale woods. Their sublime movement allows them to creep up and appear, well – as if by magic, and the balletic meets contemporary style with which they glide effortlessly yet powerfully throughout the performance both enhance and guide the entire show. The outstanding creative team of costume and puppet designer Samuel Wyer, puppetry director Finn Caldwell, movement director Steven Hoggett, magic and illusions director & designer Jamie Harrison, composer Jherek Bischoff, set designer Fly Davis, lighting designer Paule Constable and sound designer Ian Dickinson are the Holy Grail. I'm just putting it out there that I would love for them to combine forces again and produce a breakout show because I have already put the money aside for my ticket should this ever happen!
Keir Ogilvy (Restless Natives, No Future) as Boy and Millie Hikasa (Another F***ing Play About Race, Macbeth) as Lettie are at the heart of the story, beautifully allowing the worlds of reality and imagination to be questioned and redesigned. A glorious partnership, where innocence meets the unexplained and simply accepts it as truth without question. Their performances are so naturally real that you are able to believe in the unbelievable. Ogilvy will carry your heart in his hand for the whole show as he takes us on his emotive journey, and even though it will be handed back to you at the end, it will have been reshaped and altered, carving out a space for a little childlike illusion in our own adult world.
Charlie Brooks (Eastenders, Streetcar Named Desire, Lie With Me) is devilishly brilliant as the 'flea' witch Ursula / Skarthach. She masters the fine balance of overt kindness foreboding into sinister, and commands such an air of unhinged danger that the hairs standing to attention on your arms, your elevated heart rate and the cold slither of anticipation wracking your body solidify the power and strength of her performance. Finty Williams (The Key Workers Cycle, Twelfth Night, The A List) as Old Mrs. Hempstock is not only everything you want the wise all-knowing mystical character to be, but her humour and delivery is so cleverly routed in our world that her performance is entirely relatable for even the most cynical of adults who refuse to believe in anything other than what they see in front of them. She has some of the most beautifully written, thoughtful and purposeful lines in the whole play and they are spoken with such regard that your ears stretch a little to ensure you take in everything she says. A sublime performance.
Trevor Fox (Curious Incident Of The Dog In The Night-Time, The Pitman Painters) as Dad not only switches accents, ages, and personality throughout his performance, he does it all with crystal clear clarity so that at no point are you left confused or disorientated. He has a brilliant manner of delivering his lines with all the qualms and qualities of natural speech, making it feel like he is someone you could know, entwining you further still into the story. Kemi-Bo Jacobs as Ginnie Hempstock and Laurie Ogden as Sis complete the main cast with outstanding, and quite opposite performances, from the worldly wise, to the innocent and naive.
The Ocean At The End Of The Lane not only takes you to the edge of reality but it free falls you into an unparalleled world of storytelling and theatre where the only limit is your own imagination. It has thrown down the gauntlet of what is achievable not just in stagecraft, but in how far you can take your audience. Most theatre relies on the audience suspending some level of disbelief, but Ocean fully submerges you into believing and accepting what is in front of you, with the same enthusiastic and untouched vigour that allowed you to believe whole heartedly in rabbit holes, Narnia, and magic. Simply put, it is ground-breaking and as I said at the start, I have never seen anything like it. It is an experience worth sharing with those you love because you know you have just shared something special, something you will remember for ever. What a perfect Christmas gift and a truly magical way to top a year of theatre. The Ocean At The End Of The Lane deserves all the stars in our universe and beyond.
WE SCORE THE OCEAN AT THE END OF THE LANE...





The Ocean at the End of the Lane is on at The Lowry until Sunday 8th January.