Manchester Theatre News & Reviews
REVIEW - Wish You Were Dead will make you think twice before booking your next holiday!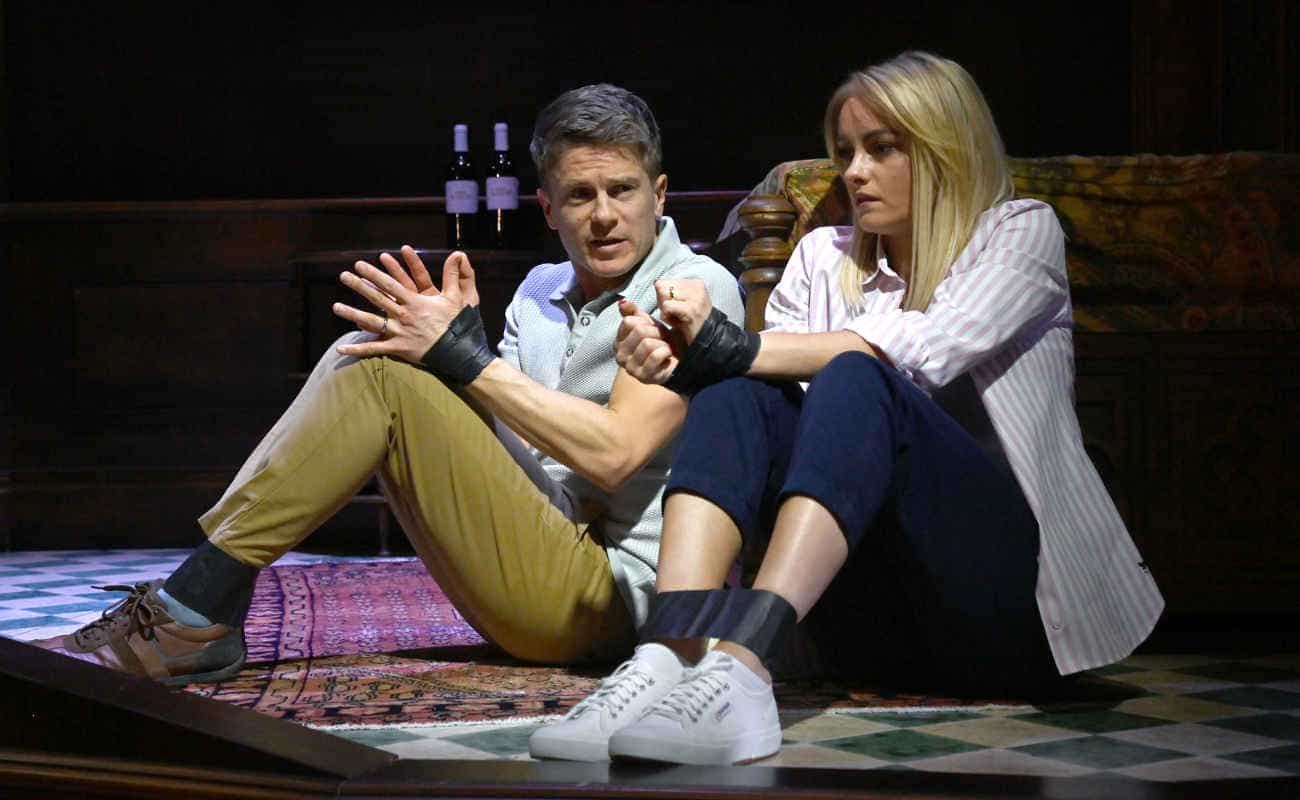 BOOK YOUR TICKETS WITH 20% OFF
On Tuesday, we were invited to The Lowry to see Wish You Were Dead. Read what our reviewer Karen Ryder thought of the latest Peter James' drama.


Since watching Peter James' Looking Good Dead at The Lowry about eighteen months ago, I have become a hardened fan of The Roy Grace series, purchasing countless book, and binge watching the TV series Grace. Peter James is a UK number one crime author with countless number one books under his belt, the most successful crime stage franchise since Agatha Christie, and with good reason. These books are brilliant, and so it went without saying that I cut short my trip away to get back in time to watch his latest offering for the stage – Wish You Were Dead. This sixth page to stage offering is slightly different to his other Roy Grace books, firstly because it's a quick read rather than a full crime novel, but secondly because we see Grace in an environment other than his usual setting of Brighton and Hove. Grace is in fact stepping away from his consuming job as Detective Superintendent, to enjoy a well deserved break in France with his wife Cleo, baby Noah, their nanny Kaitlynn and her partner Jack who also happens to be Roy's police colleague and friend. At least that was the plan.


As we join Roy, Cleo, Noah and Kaitlynn at the end of their track across France to a remote villa in their hire car, the scene is set for what proves to be a crossing of genres within this story, for they battle a horrendous storm with a sat nav system from the dark ages and no mobile phone signal. Our heightened senses tell us that this is not just a crime story, but one drenched in the cobwebs of a spooky, horror vibe. As they somehow reach their destination, Kaitlynn fears as to why Jack is not there to meet them as arranged, and why he is not answering his phone. No one has seen or heard from him since he left his post and alarm bells start ringing. Upon entering their chateau, little is done to reassure them for rather than the warm, cosy accommodation they had anticipated from their online booking, they are faced with a cold, stark, dismal reality, no Wi-Fi, and a host that makes Bates motel seem like a summer cottage in the Algarve! Something is not right, and as events unfold Roy, Cleo and Kaitlynn realise that their hosts are not entirely who they claim to be. As a case from Roy's past catches up with him, it seems the only amenities on offer from their holiday home is premeditated revenge. In a house steeped with dark crevices, and dangerous decorative furniture such as suits of armour and mounted animal heads, can Roy unravel the mystery in time to save his family, friends, and himself to see that justice is finally done once and for all?


Ever since reading Wish You Were Dead, I have been intrigued as to how this would be transposed onto stage, for the chateau in which the story takes place is as much a character as anyone else in this story, and so its sprawling setting surely had to be recreated in such a way that it was central to the story. Michael Holt's vision is brilliant and lifted the dreary, mysterious chateau straight off the page. He has designed a complex and detailed setting with succinct visual ease, encompassing everything we need in an impressive two storey treat. All the details are there, including the stuffed animal heads, disturbing paintings, and the much talked about suit of armour. Secret reveals using cleverly lit screens depict a hidden cellar, and exit points from the visible set realistically blend into the unseen extensions of this creaking world. But the set is not the only thing that intrigues and engages within this production, for full use is made of Jason Taylor's and Max Pappenhein's sound and lighting design, beguiling and intriguing us with atmospheric nuances that give an almost cinematic feel at times. Directional voices and sounds from the baby, car headlights, ominous rain, lightening, thunder, gun shots, and music all combine to ignite a psychological response from the audience. There is an occasional moment to make you jump, and the use of blackouts not only allow for the passing of time, but play with your mind too.


George Rainsford (Casualty, Holby, Call The Midwife) and Katie McGlynn (Coronation Street, Hollyoaks, Waterloo Road) take on the respective roles of Roy Grace and Cleo, forming a smooth and natural partnership. They perform together with ease and really show us the intimate shorthand of this couple in a way that we don't usually get to see. Rainsford offers us a well rounded Grace, taking him from a playful husband on holiday full of charm and wit, to vulnerable when he fears for his family, to cool, calm and in command when his detective skills kick in. McGlynn brings Cleo into a central character in her own right, rather than just Roy Graces' wife. She allows us to get to know Cleo better and see how she too is strong, determined and not to be messed with.


Rebecca McKinnis (Dear Evan Hansen, Everybody's Talking About Jamie) as Madame L'Eveque and Clive Mantle (Vicar Of Dibley, Casualty, Of Mice &Men) as Curtis bring an unexpected humour to the story, with their criminal sarcasm, dry delivery and disguises. Their deadpan timing was spot on, switching it up for emotive responses as their agenda became clear. McKinnis evoked many a giggle with her French accent whilst Mantle's cheeky chappy chit chat rounded off the variety of characters on offer. Director Jonathan O'Boyle has gone for a different approach rather than the full on, hard hitting crime thriller we are used to with the TV series Grace, but if you have read the book, this makes perfect sense. The actors are not microphoned and whilst this is impressive work to be applauded, there are moments when it is difficult to hear them in such a large venue. You do get used to it and adjust accordingly, but I was sat mid stalls and I wonder if I would feel the same if I were to be sat higher up and further back.


After facing his own holiday from hell, Peter James did the only thing he could possibly do - he turned his nightmarish tale into a novel, and Wish You Were Dead was born. Not a bad reward for surviving a stop over during your tour of France, where the best review you can give is, "At least they didn't murder us in our sleep!" This catalogue of disasters is recreated on stage, and though some audience members were saying the series of misfortunes were a little far-fetched, it seems perhaps not as they really are based on James' personal experiences (well, ok not the revenge killing / kidnap / murder part, but the freakishly spooky house, yes!) There are a few plot twists along the way as you'd expect in any Roy Grace story, and whilst the odd tweak has been made from the novel, the transition onto stage is respectful to the book. You don't need to be an avid fan of the Roy Grace series, or even know there is one to understand and follow Wish You Were Dead, for it stands on its own, though for those fans out there, you will understand perhaps a few more of the subtleties on offer. This plot isn't as dark or spinechilling as most Roy Grace stories and so doesn't churn your stomach or leave you gripping your seat quite the same. But maybe it doesn't need to, and it is interesting to see this beloved character taken out of his usual environment to see what happens. It certainly offers scope for further exploration, but one thing is for certain, as much as you may trust him with your life, NEVER let Roy Grace choose your holiday destination for you!


WE SCORE WISH YOU WERE DEAD...





Wish You Were Dead is on at The Lowry until Saturday 27th May.


WE HAVE AN EXCLUSIVE OFFER - 20% OFF YOUR TICKET


Watch our "In Conversation with Katie McGlynn" video discussing the show


BOOK YOUR TICKETS WITH 20% OFF