Manchester Theatre News & Reviews
REVIEW - I Should Be So Lucky is a celebration and sweetest of sensations that musical theatre has to offer!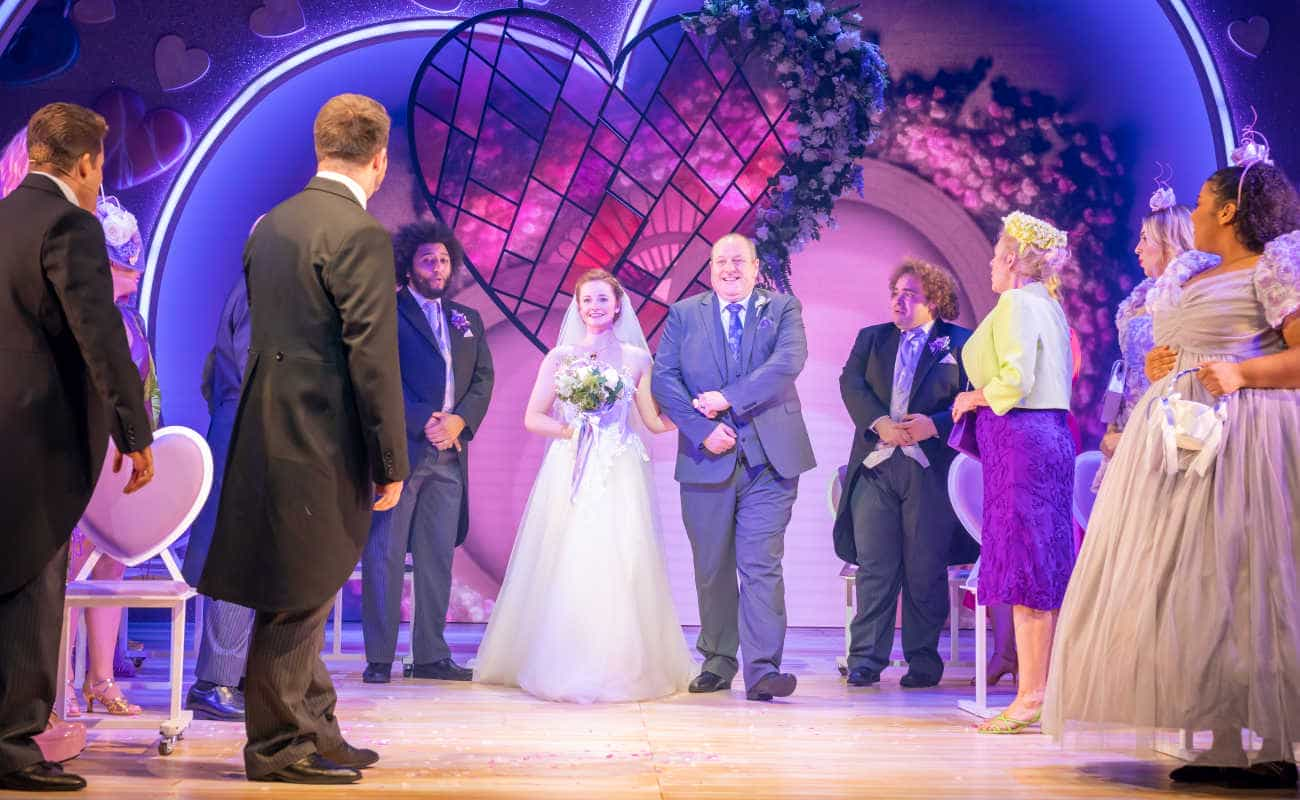 BOOK YOUR TICKETS HERE!
On Wednesday, we went to the Manchester Opera House to see I Should Be So Lucky. Read what our reviewer Karen Ryder had to say about this amazing show...

Thank you! There is no other way to start this review than by saying thank you. Thank you to Debbie Isitt for writing a show full of hilarity, hope and heart, and thank you to Stock Aitkin and Waterman for not only writing these timeless songs in the first place, but for allowing them to enter the world of musical theatre. They will be forever cherished by a whole new genre of audience and by generations to come, appreciating the undeniable storytelling that these songs have always had and forming the soundtrack to many more lives. I Should Be So Lucky The Musical will burst through the exterior of just about anyone who wants to feel joy, and will fill you with all the feels, sparkle and sunshine. I already want to come and see it again, and I want to tell anyone who loves happiness, banging tunes, laughing till you cry, then ugly laughing because you just can't stop, getting your groove on, recognising yourself and your own family and friends in the array of exceptional characters, observational humour, holiday vibes, and just a little bit of the good cheese – then I want to tell you to BOOK YOUR TICKETS NOW!! I think it's safe to say that I found my spiritual home with this show and am so proud that it chose Manchester to make its world premiere!






So, what's it all about? What has got me so animated? Other than it being such a breath of fresh air amidst all the doom and gloom of the world, and oh yes, the small fact that Kylie (yes! I did say Kylie) is in the show as a digital character throughout, it is also clever, fast paced, engaging, and modern. "The wedding is off but the honeymoon is on," is the tagline for this show, and it is perfect. Ella and Nathan are supposed to be getting married, but they both have last minute wobbles. Ella deals with hers by talking to a manifestation of her idol Kylie (yes many of us have also been here) whilst Nathan talks to his dear Grandad. Kylie calms Ella's jitters, but Nathan's Grandad upgrades Nathan's wobbles to earthquake status, resulting in a jilted bride, her furious family and friends, and a bemused but bonkers best man. Team Bride decide that there is only one thing for it – to go on the honeymoon anyway! They intend to help Ella heal through some tried and tested, sun, sea, sand, sangrias and sparkling songs! What they didn't anticipate was a tall, dark stranger named Nadeem or the arrival of Nathan and best friend Ash incognito, after Nathan realises his mistake and wants to win Ella back. As the pursuit for true love or simply getting your leg over continues, deeper truths are revealed about this zany cast of characters, making every moment of this effervescent musical count. It loudly and proudly shows that love is love, subtly deals with the hidden anguishes and demons we may all face, whilst keeping the spirit of the show fresh and alive without minimising the fragility of real human troubles. The chase is on to win back the bride, so will the wedding ever be on again? And if so – with Turkey bewitching all at the resort with its Eastern Turkish delight – whose wedding will it be? How many of the characters will have their I Should Be So Lucky happy ending? You'll have to BOOK TICKETS to find out!
Lucy–Mae Sumner (Titanic, Mary Poppins, Barnum) delights in the role of Ella. Ella takes us on a journey of self-discovery beautifully, warmly welcoming us in and showing us all how to channel our inner diva. She is powerful, yet vulnerable at the same time and it is a delicious mix that ensures we are team bride from the off. Billy Roberts (Titanic, Nativity The Musical, Rock Of Ages) partners Lucy-Mae Sumner to perfection as Nathan. He too shows a gorgeous sense of vulnerability, allowing us to not only like the man who jilted someone at the alter but even root for him to win her back! Roberts has a breath-taking moment involving a hot air balloon that I won't ruin here for you, but it is impressive to say the least. Together they treat us to some of our all time favourite Stock Aitkin & Waterman songs, and when they join forces to sing Especially For You, a heartfelt wave of nostalgia floods the theatre, leaving an audible sigh of contentment from us all, encouraging our goosebumps to happily sway along in time to the music with us. It is just stunning.



Giovanni Spanò (The Wizard Of Oz, Cinderella, Bat Out Of Hell) is cheeky, charming, and cheerful as Nathan's best friend Ash. Spanò is a force of nature to be reckoned with and not only does he pack an almighty punch vocally, he too can pull it back to show us a more tender side, and a friend who would go to the ends of the earth for you. We all need an Ash in our lives that much is for sure! He brings the fierce, fun, friendship factor and absolutely smashes it. Kayla Carter (The Color Purple, Bedknobs & Broomsticks, Rent) and Scott Paige (The Great British Bake Off The Musical, The Addams Family, Nativity! The Musical) play Ella's best friends, Bonnie and Michael. Deadpan humour is delivered to perfection with these two and the banter-esque vibe they create is palpable, making you feel like you are part of their gang. And their vocal pipes! Woah! God, I just love this show. Jamie Chapman (Nativity! The Musical, The Mousetrap, Nativity Rocks!) is the absolutely adorable Spencer, owner of the Turkish Paradise Resort, and I promise you will fall in love with him. He plays Spencer with whispers of the delectable Larry Grayson, mixed in with his own undeniable charm and you cannot help but smile with genuine warmth every time he is on stage. Jemma Churchill (Nativity! The Musical, Nativity Rocks!, Guya & Dolls) as Nana Ivy is brilliantly risqué, pushing typical nana boundaries with her party vibe, dancing shoes and her vajazzle! Then we see her tip everything we thought we knew about her entirely on its head towards the end of the show and presents us with a touching openness that you never saw coming. The acting is exceptional and everyone will leave wanting a nana Ivy. Melissa Jaques (Everybody's Talking About Jamie, Kinky Boots, Mamma Mia) as Ella's mum Shelley is dynamic, strong and a great tribute to mums everywhere. And when she sings Telltale signs – oh my goodness. Just when you thought you were all out of shivers of delight, you get more! It's breath taking. Matthew Croke (Aladdin, Hair, Singin' In The Rain) as Nadeem provides a brilliant performance that offers up some interesting discussions as to his intentions. Is he genuine and falls in love easily, or is he a smooth talker who promises the earth? I love the robust and invested discussions he evoked, showing a realness to his character as the discussions were so passionate they clearly came from real life experience. Everyone has met a Nadeem on holiday after all.
Jessica Daley (The Wizard Of Oz, White Christmas, Billy Elliot) as Britney is fierce, feisty and fun, belting out some outstanding renditions and again surprising us with a hidden story that allows her to display an epic range of emotions and traits. Her scene in the casino, dancing across tables is exhilarating and a beautiful confidence shines through. Dominic Andersen, Anna Unwin, Ralph Bogard, Gary Davis, and Sydney Isitt-Ager complete this exemplary main cast with ease. From Andersen's suave cad about town, to Unwin's flamboyance, Bogard's neck cracking performance, Davis' protective bruteness and desire to get it right, to Isitt-Ager's quirkiness and individuality. Each character is so full of possibility, each with their own story to tell, that this essence could easily provide ample opportunity for spin off musicals that cater to the whole heap of Stock Aitkin & Waterman hits that couldn't fit into this particular show. Just saying!!!

And then there's Kylie! When it was first announced that she would be making an appearance in the show in a digital form, I assumed it would be a brilliant but short cameo. Nope! I am thrilled to say that digital Kylie is in the show as her own character and so makes several appearances throughout. She looks utterly fabulous and gifts us with many words of wisdom, including a mantra that personifies herself to perfection. Strong, Beautiful, Fabulous. Yes you are Miss Minogue. Yes you are!
What is so extraordinarily impressive with this cast is that every single one of them has the magnetism to hold the entire show and the audience in the palm of their hands independently, and manoeuvre us from one emotion to the next, yet collectively, they hold the upmost respect for each other, so when they are together, they do not try to outshine each other, but actively do all they can to promote each other. A sense of love and loyalty to each other shines through and so consequently, it heightens our enjoyment of the whole show.


This harmony comes from the leadership of the creative team. Debbie Isitt not only wrote this corker of a show, but directed it too, and her passion, warmth and sense of fun are emulated on stage. The humour is so current, routed in realness, observational, quick, and so close to the bone that when you're not grinning like an idiot at the songs, you are quite literally belly laughing at the script. The jokes are thick and fast, with lines that are so Northern in their essence at times, it really could have been taken from any of our homes. Cliched lines are given a cheeky twist, such as "When Life gives you lemons, make nanna's lemon drizzle cake." The script is full of fierce come backs, real people having real chats, and it has been directed as such, so much so that you honestly want to jump up on stage and join in. These characters are identifiable and that's what is so clever. You laugh because you know these people. You ARE these people, and the language is so real and natural that it hits the spot.



Then we get to the music of Stock Aitkin & Waterman. I mean how do you even start to review such iconic tunes? Well, you kind of don't. You just sit back and let the music do the talking because they are legendary. I mean this is the music that defined an entire generation, and you only have to look at music festivals today to see the likes of Rick Astley stealing the show to understand its reach. The score includes over 30 songs from the Hit Factory, with no less than 10 number 1s! They produced music like no one else and created a phenomenon, and it is justly hero worshipped in I Should Be So Lucky The Musical. The songs are name drop after name drop, from the likes of Kylie Minogue, Rick Astley, Bananarama, Mel & Kim, Jason Donovan, Sonia and Dead or Alive. It is a celebration and salute of the highest order to our puppeteers of happiness.


Our Musical Director and orchestrator is the irrepressible George Dyer. Wow! This is not a jukebox musical where pre-existing songs are shoehorned into a story. These songs ARE the story and they tell it beautifully. The musical theatre make over these songs have been given is so respectful to the originals, yet equally allow themselves to stand alone in this emotive genre. It is glorious to hear pop songs brought to life with such meaning and evoke such authenticity in their response. Having a rocking band sets them alight and alive in a brilliant way that, had you never heard a Stock Aitkin and Waterman song before in your life, you would easily believe they had been written anew specifically for this musical. An incredible example of this is You Spin Me Round (Like A Record) that is reimagined with a Greek / Turkish flavour and it is phenomenal. It is one of the showstopping pieces where everything comes together just so. And the contextualisation of songs is impressive to say the least. Each character is gifted their moment to shine through a solo or duet, and each has their own song that teases you with motifs throughout.



The stage is blazing with a pulsing passion, magnetic energy, and contagious choreography thanks to Jason Gilkison's uniquely outstanding work. He has created a party atmosphere so tantalising that you feel the rhythms throughout your entire body and unwittingly find various parts of your anatomy jigging along in response. It would be easy to say that it is everything we would expect from a Jason Gilkison choreographed show, but it isn't – it's more, so much more, and the sheer joy it brings is dynamic. There is a jaw dropping disco scene at the end of act one that will leave you unable to speak for a good few minutes, and the end of the show is where you can finally let it all out, jump up, join in and set your inner dancer free.

Set and costume design are by the impressive Tom Rogers. Never have I seen such a motif themed set and costume design pulled together so beautifully. Everything is aligned to the theme of a heart, whether it be the arching scenery, the shape of a house, chairs, a boat, the lights, or any of the gloriously detailed elements in the holiday resort. It becomes a genuinely fun element of the show, looking out for all the different heart themes, and the costume pallet is of course equally themed with an overwhelming amount of pink and red. It keeps everything feeling summery, fresh and fantastic. The set itself is so slick that it makes it possible to go from a wedding, to the airport, a resort in Turkey, to the beach, in a hot air balloon, to a casino, a care home, and Ellas parents house. With a backdrop of digital scenery also on offer (Andrzej Goulding) that transports us from beach to up in the air with delectable ease, the entire design will whisk you away to a warmer climate.

If you want to laugh, to feel empowered, and to smile until your jaw aches then you simply must BOOK TICKETS to watch I Should Be So Lucky The Musical. It's everything I never knew I needed and now can't live without! So, I will end as I started and say thank you. Christmas has definitely come early and Santa brought me everything I needed wrapped up to perfection in I Should Be So Lucky The Musical.


WE SCORE I SHOULD BE SO LUCKY...





I Should Be So Lucky is on at the Manchester Opera House until Saturday 25th November.

Go to our YouTube channel to see all our "In Conversations" videos with the I Should Be So Lucky cast and an interview with Debbie Isitt and Pete Waterman.



BUY TICKETS TO SEE I SHOULD BE SO LUCKY