Manchester Theatre News & Reviews
REVIEW - Blonde Bombshells Of 1943 - You'll laugh, feel sentimental and proud, and even let your hair down with a singing nun! A fantastic night at the theatre!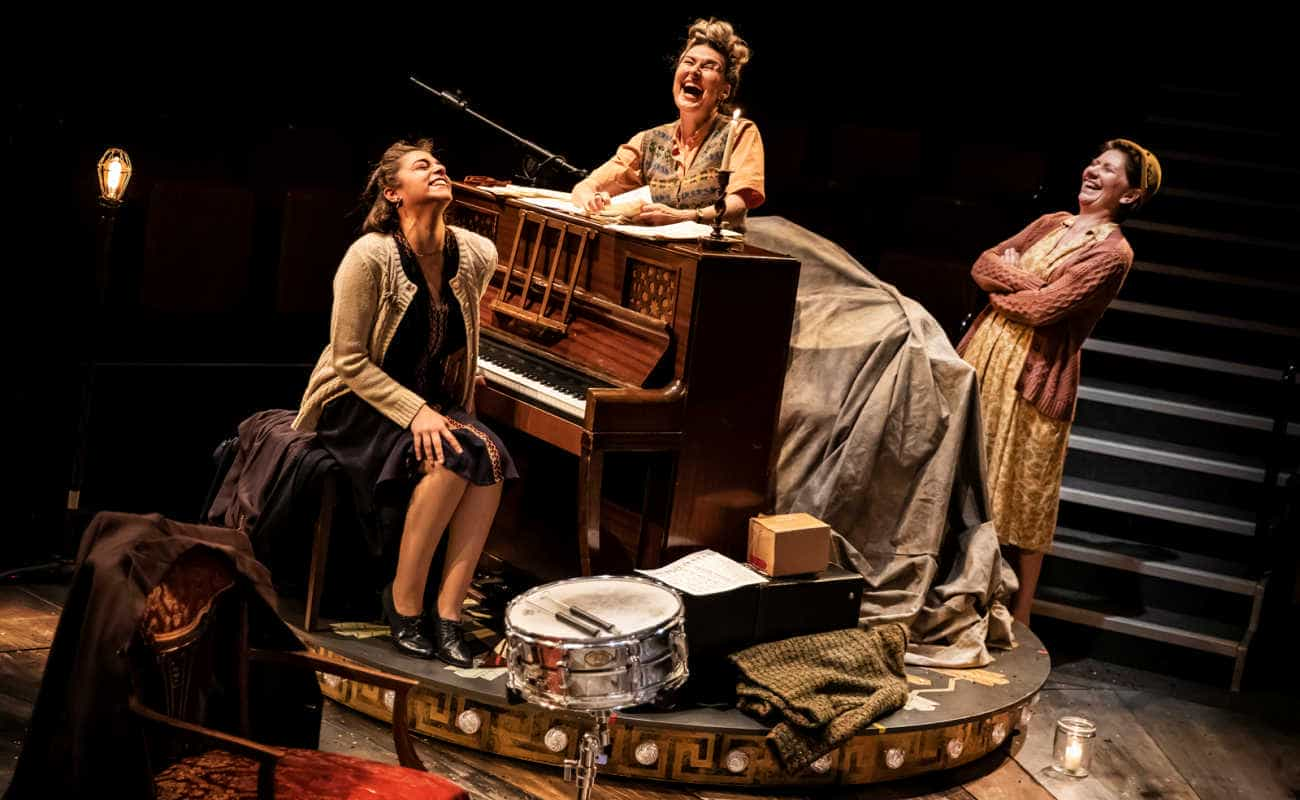 BOOK YOUR TICKETS HERE
On Tuesday, we were invited to The Octagon in Bolton to see Blonde Bombshells of 1943. Read what our reviewer Karen Ryder thought about this fantastic show.


Stories based around WW1 & WW2 are so often focused on the efforts of the men - the soldiers, Officers and so forth. But not Blonde Bombshells Of 1943. This is a beautifully funny, powerful, and refreshing take on this period of our history, for it showcases the women and their experiences. It is their story and theirs alone. As we are taken on a journey to the past by one of the bands Granddaughters (Liz), we are quickly enveloped into a world of quick wit, sarcasm, fierce friendship, and solidarity and find ourselves crash landing into a "once upon a one helluvah day!". The Blonde Bombshells, a brilliantly bolshy band, have an important gig that night for the BBC (though they can't tell you where it is in case Hitler finds out!). Sounds great! The only trouble is, half the band have absconded with American G.I's at their last performance, leaving them a few musicians short of a picnic and a gaping hole as big as the bombed out floor of their rehearsal room in their line-up. As band leader Betty keeps calm and carry's on by organising replacement auditions, remaining members May, Vera and Grace set the tone of their group with a deep-rooted Northern humour, grit, determination, and brutal honesty.


Liz is the first auditionee to arrive, a fresh faced, innocent and daft school girl who has been sent along by her sixth form teacher. It soon becomes clear that whilst Liz knows music, she knows very little of the real, grown-up world she is about to enter, and it offers opportunity for the others to have some fun. Next to audition is "the one outside wearing funny clothes," who turns out to be Lily – a bubbly and enthusiastic ukulele player and singer. Oh yes, and she's also a nun. Her love of life and music is infectious, and she soon becomes firm friends with Liz. Miranda Ineligible (nicknamed so because they can't read her writing) sashays her way in next, an officer who is only here because her Commanding Officer instructed her to be, probably as she keeps crashing into things when driving him around. Miranda is about as Northern as black puddings wearing flat caps are Southern, and her contrasting accent, and privileged life are cause for some golden moments of hilarity. Her heightened self-regard and total lack of awareness of things outside of her world deliciously oppose the realities faced by the rest of the group. Last, but not least is Patrick, who has avoided joining up as a soldier, much to the disgust of a couple of the Bombshells. He persuades Betty to take him on with some kick ass drumming and the promise to don a red dress and a blonde wig to get into the band! Just as it seems that everything is in place to rehearse now that the band is complete, the air raid sirens go off and everyone has to take cover. But The Blonde Bombshells are a band whose mission is to rouse spirits, beat the odds, and put on a cracking show, so it will take more than an unexploded bomb to stop them in their tracks.


Written by CBE Alan Plater, The Blonde Bombshells Of 1943 in a masterclass in every day, humanistic humour. It is playful, observant, and so slick and clever that the next giggle is only ever a contented sigh away. The characters are rounded, real and razor-sharp with their insights, quips, and put downs. Conversations are so real that they don't follow a linear path but jump from A to W to C and back to A as characters put their two penn'orth in. This conversational approach will be such a familiar pattern to almost everyone in the audience, recognising their own ability to go off on tangents, yet safely end up back where they started. Recurring jokes, such as Liz, Lily and Miranda's responses to every question asked of yes, yes, no respectively, are delivered with such ease that they never become dull, and tales of Miranda's never ending love life sprinkled with Dukes, Earls and goodness knows who else are awaited with bated breath.


Of course, all of this is before we have even gotten around to mentioning the music. Not only is everything played live and sung live, it is all done so by the insanely multi-talented cast! Many of them play more than one instrument and they bring the house down – quite literally! This era of music is just stunning. It is heartfelt, emotive, jolly, and everything in between. The audience were toe tapping, humming, ahhing, and when given the opportunity to, joined in with a war time wild abandonment like their tomorrow's were a privilege, not a promise. Union Jacks were brought out during the BBC concert section of the show, and at the mere offer of standing up to dance along by the cast, everyone was up on their feet, swinging and swaying 1940's style. Camaraderie was alive in the Octagon, and I have to say that director Zoë Waterman has blended a past era of music, stiff upper lips, stoicism and survival humour tenderly alongside the tragic realism of its truth without ever going too far in either direction to be regarded as disrespectful or mournful. It was spot on, and in the moments of stark reality, such as when Grace and Vera share their stories of how the war has brutally impacted their husbands, you could hear a pin drop in the theatre.


In order of appearance, Lauren Chinery (Dreamcoats & Petticoats, Gatsby) as Liz is splendidly loveable and naive. She speaks so innocently uninhibited that her delivery is one of gentle humour at her youthful ways. She couples this with such tremendous facial expressions that you can almost see the cogs whirring as her character tries to figure out what the others are talking about. Georgina Field (The Great Gatsby, Noises Off) is brash, ballsy and brilliant as Betty. She is a powerhouse but never comes across as unlikeable, yet still manages to be the dominant driving force. Her change in accent and spoken delivery from Northern to fake posh upon meeting Miranda was one of the highlights. Verity Bajoria (Tales Of A Thousand & One Nights, The Lights Burn Blue) is delightfully dry as May, a lady who takes no messing and tells it like it is. She has a great moment when recalling a joke to the others and is so animated that it is a wonderful contrast to Mays alternate deadpan humour delivery. Alice McKenna (Robin Hood, Generation 20) as Grace effortlessly switches from a seemingly youthful, fun loving member of the band, to a shock twist as she reveals her actual reality to us. The flip in her personality is dramatic and pulls the audience to their knees.


The same can be said of Sarah Groarke (The Bay, Macbeth) as Vera, who shares this critical moment in the show. Together, they are able to remind us of why all this banter has become necessary and it makes you hold your breath. Gleanne Purcell-Brown (Curtains, Spamalot) is sunshine on stage as Lily. She brings optimism, and a few surprises, particularly with her song choices and deliveries and so does a beautiful job of reminding us that we should take people as we find them, rather than what we think we see or know. Her enthusiasm and energy is catching. Stacey Ghent (Crazy For You, Tommy) is divine as Miranda. With echoes of Margo from The Good Life, the delivery of her lines is absolutely spot on every time and you find yourself wanting to hear more and more. Even when she doesn't speak, she holds the audience in the palm of her hand, such as when she comes on, defuses a bomb, and simply raises an eyebrow in response before sitting on it and reapplying her lipstick. She was cool, calm, collected, and so sure of herself. I loved Miranda! Rory Gradon (The Snow Queen, Julius Caesar) took Patrick on a lovely journey, from a slightly too smooth crooner to an honest and frightened boy, to a man facing his fears with courage and pride. An excellent drummer and in a cast full of strong sassy women, didn't allow himself to be swallowed up.


The Blonde Bombshells Of 1943 is a fantastic night at the theatre with a wealth of talent on offer, where you will laugh, feel sentimental, feel proud, and even let your hair down with a singing nun! The comedy style felt very familiar in the sense that I am a huge Victoria Wood fan, and it had the same intelligence, buoyance, and relaxed ease about it that made you feel a part of the laughter and not an observer of it. It is a play with warmth, heart, and a little bit of something extra special that defies words. Keep calm and carry on watching The Blonde Bombshells of 1943. Over and out.
WE SCORE BLONDE BOMBSHELLS OF 1943...





Blonde Bombshells of 1943 is on at The Octagon, Bolton until Saturday 1st July.


WATCH OUR "IN CONVERSATION WITH LAUREN CHINERY AND GLEANNE PURCELL-BROWN DISCUSSING THE SHOW