Manchester Theatre News & Reviews
REVIEW - My Fair Lady is classic theatre at its best with a fresh outlook and a gentle modern twist, making it bloomin' loverly!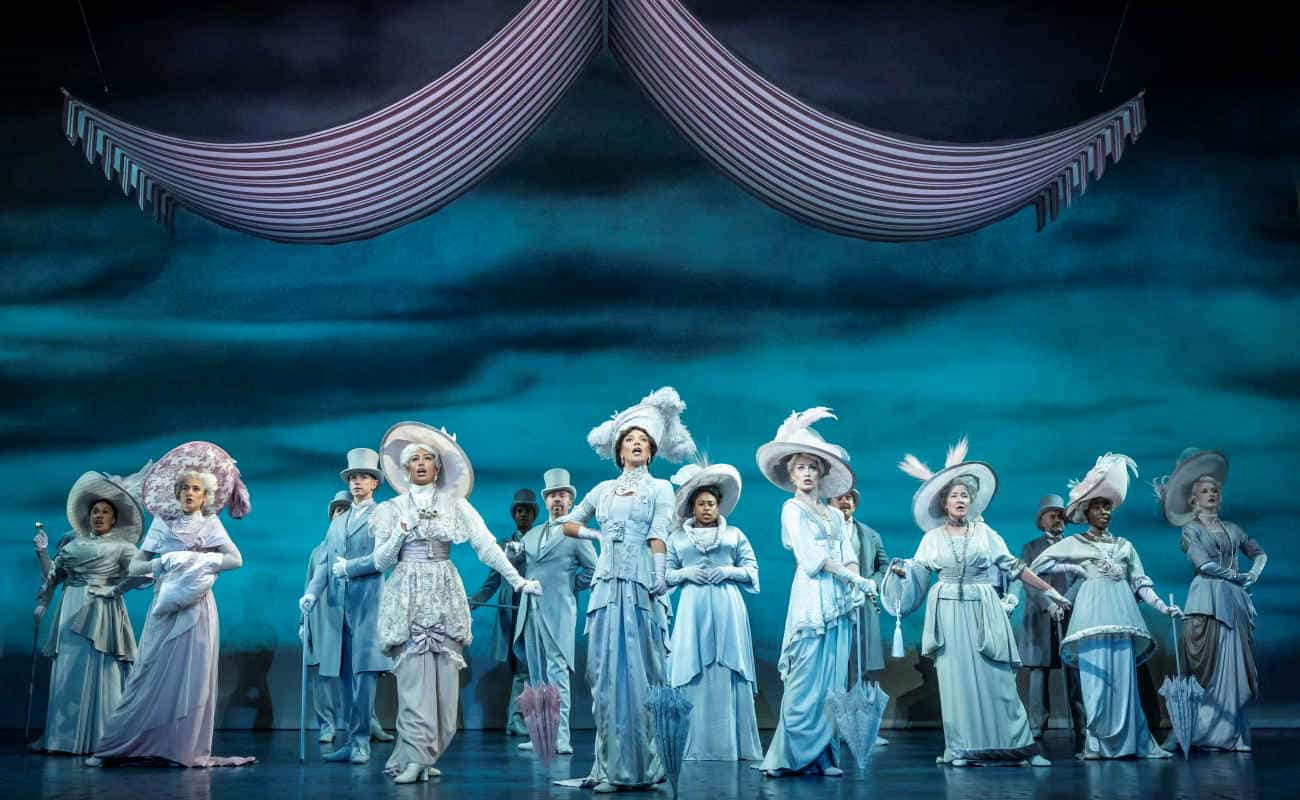 BOOK YOUR TICKETS HERE!
On Wednesday, we went to the Palace Theatre to watch My Fair Lady. Our reviewer Karen Ryder absolutely loved the show and it's definitely one of the must-see productions in Manchester this year...


It was going to take a very special and phenomenal production to replace The Lion King's 19 week run at The Palace Theatre, but "by jove, I think we got it!" I have NEVER seen a production of My Fair Lady like this one before, and now I have, there is no going back. I have never laughed so much at My Fair Lady, never seen the timeless classics presented through a different lens, never seen such beautiful and subtle additions such as the suffragettes and cross dressing, and never found myself liking Higgins in any way shape or form before tonights show. I knew that under the directorship of multiple Tony Award winner Bartlett Sher, it would be something special, but I honestly was not prepared for the magnitude and magnificence that commanded and entranced the audiences every whim.


Eliza Doolittle is Cockney flower girl who dreams of a better life. A chance meeting puts her in the orbit of Professor Higgins, a linguistics professor who can place someone's origins within a few miles based purely on their dialect. Eliza envisages herself as a lady working in a flower shop rather than as a trader selling them on the street, but the way she sounds ensures that will never happen. She turns up uninvited to Higgin's home, offering to pay for his tutorage so she can revoke her Cockney vowels and replace them with RP English. Higgins, with his usual unabashed and clipped manner, speaks as if she isn't there, using insulting and degrading phrases to describe his perception of her. The challenge is too delicious for him to turn down, and so his friend Colonel Pickering makes a bet with him that he can't pass her off as a lady. Terms of agreement met, the deal is done and Eliza moves in.


Relentless linguistics training commences and eventually Eliza has a break through. They take her for a test run at Ascot Races. It is here she meets Freddie who falls in love with her quirksome manner and colourful stories. As Freddie waits outside of Higgins' home desperate to catch a glimpse of Eliza, her hard work continues to convince everyone she is a Lady in High Society at the upcoming Embassy Ball. She passes the test, the bet is won…….but then what? What becomes of Eliza now? As Higgins and Pickering self indulgently congratulate themselves on their own brilliance, Eliza realises she has become nothing more than their plaything. She leaves feeling dejected and degraded, and Higgins develops complex feelings beyond his understanding. He has already told us he dislikes women, yet Eliza's absence highlights his need for her. He finds Eliza to tell her this, but she questions in what capacity does he needs her. My Fair Lady is a beautifully desolate examination of relationships in class, power, society, gender, friendship, family, and love. What is a human life worth? Money? Respect? Equality? Or just someone to fetch your slippers?


As the overture begins, we are welcomed into the heart of London with clever scenery which plays with perception to create dimension and depth. Even the arch ways chosen are clever, allowing for mystique, mystery and linguistic professors to be hidden around every corner. This swiftly disappears to be replaced by stunningly detailed painted sets that are wheeled on with ease, depicting Alfie Doolittle's home – the pub! It opens outwards, allowing us to catch a glimpse of the debauchery going on inside, and even houses actors that are able to convincingly spill out onto the stage in their drunken stupor. But the real pièce de résistance is the reveal of Higgins home. A dominating work of art, it glides forwards from the hidden depths of the stage, which equally blows your mind at the actual size of The Palace Theatre stage!


It is intricate, stunning, and grand. Then, as if the study of Higgins home, with its pine wood balcony, spacious footfall and spiral staircase isn't enough, the entire thing rotates on itself to reveal two more parts of his expensive and glorious home, complete with outside areas where the maid and the local bobby can have a smooch or two! Each room is interconnected with doors, making the realism even more so, especially when actors walk throughout them as the set rotates at the same time, giving you a sense of the grandeur and spectacle of 27A Wimpole Street. When a stage set appears more liveable than the current messy attire of your real life home, and you are utterly bewitched by its beauty, then you know that designer Michael Yeargan has not only succeeded but reinvented imagination and taken control of your sense of disbelief.


In a show full of stars, it's hard to single someone out, but award-winning West End and Broadway star Michael D. Xavier (Sunset Boulevard, Into The Woods, Love Story, Phantom) redefined My Fair Lady like no one else. I know this show well, and as previously stated, never have I been able to find a redeeming quality about Higgins. In the incredibly talented hands of Xavier, Higgins was just something else! Despicable with hints of loveable, rude ignorance coupled with delightful charm. Petulant, spoilt and self-indulgent yet with an almost childlike innocence of the real world. And funny! I have never seen Higgins played with humour before. His cad like approach to the role leant for a cocktail of influences from an almost John Cleese / Basil Faulty physicality (his body bends to avoid hitting his head on the staircase or sliding down the sofa were pure comedy gold), to an eccentricity and zealous energy that is befitting of many a Dr. Who regeneration.


This humour was pitched at exactly the right level, allowing the audience to like Higgins, without making him a parody of previous versions. Put it this way, in a score of outstanding songs, I would say that "I'm An Ordinary Man" is historically my least favourite as it gives Higgins no redeeming features and presents him as nothing short of a misogynist. However, tonight it was my favourite performance in the show! The delivery, sprinkling of humour, use of silence to reel the audience in with expectation, and physical movement involved, showed Higgins to be a confused, disillusioned product of his own adoration and allowed the audience to understand him. Impeccable acting by Xavier and inspired direction from Sher.
Charlotte Kennedy (Les Mis, Elaine Paige In Concert) auuuuwwwwwwed her way straight into our hearts as the formidable Eliza and her dialects for both cockney and RP are outstanding. She transforms right before your eyes, solidifying her talent as an actress, and when she starts to sing, as an all round performer. Her voice in crystal clear, almost operatic at times. She received an audible sigh of utter contentment from the audience after her rendition of "I Could Have Danced All Night." It was superb, and such a contrast to "Wouldn't It Be Loverley." An endearing, heart warming performance that will make everyone root for and fall in love with this feisty and determined version of Eliza Doolittle.


Adam Woodyatt (Eastenders, Looking Good Dead, I'm A Celebrity) is well cast as Arthur Doolittle. He plays the part to a tee, and may surprise many by more than holding his own in the song and dance routines. He is light on his feet and bangs his tunes out with all the gusto needed from this grumpy, 'on the take' geezer! His timing is spot on and the delivery of his attitude towards Eliza helped us to understand her plight for a better life. Again, a gentle update of the character which I have never seen before and brilliantly executed. Award winning actor John Middleton (Emmerdale, Strangers On A Train, Coronation Street, Hull & Highwater) is so authoritative as Colonel Pickering and provides a much needed softness towards Eliza, despite his old fashioned upbringing and habits. He is like a warm hug on stage and his comedic moments trying to make his way up the stairs drunk are just brilliant. Whilst Pickering has always been the softer of the two linguists, he has equally not been the most likeable of characters in the past, but Middleton brought a warmth to him, whilst still maintain his stuffiness. Quite an impressive combination. He bounced off Xavier beautifully and they made quite the power duo.


Britain's much loved award winning soprano Lesley Garrett CBE (Lesley has performed in just about every opera ever! 14 solo albums, Strictly, Loose Women) plays the role of house keeper Mrs. Pearce with a bustling and resigned brilliance at the idiocy of her beloved Higgins. An eye roll here, a shrug of the shoulders there is all it takes for her to speak volumes as to what she thinks about the whole situation. It is a fantastic performance that illuminates the mere presence of true talent, even when not speaking. Sadly, Garrett doesn't get to sing nearly enough but the four solo lines she does get are lapped up by the audience, with one member close by stating that the whole show was worth it just to hear those few lines alone! She brings a sense of female solidarity in challenging Higgins and letting her thoughts beknown regarding his treatment of Eliza, as does Heather Jackson (Phantom, Stepping Out, Pirates Of Penzance) as his mum Mrs. Higgins.


There is a fantastic scene towards the end where Eliza has visited her for support and Higgins turns up. Jackson shows such a transition from the Lady who was at first horrified by the idea of Eliza, to standing up for her over her own son, and bringing him down a peg or two. It is done with such taste, as a mother who loves her son dearly, but can also see his flaws and doesn't try to own them on his behalf. Again, it is the subtlest of gestures that make this cast speak more than words with such nuances that they bring these characters to life, seemingly for the first time. I thought I knew these characters well, but Sher's interpretation has really given them life. The same can be said for Tom Liggins (My Fair Lady – West End Debut) as Freddie. He becomes secondary to Eliza instead of her potential saviour. He is comical, yet we don't laugh at him but with him as his love sick puppy dog antics allow him to bounce across the stage and fill the auditorium with his rich voice.


The score in My Fair Lady by Lerner & Loewe has and will always stand the test of time because the songs are timeless classics that melt your heart, have you rallying the troops for a sing a long, and allow you to release pent up anger, passion, and love. Get Me To The Church On Time was a brilliant show stopper which had been updated to include cross dressed brides, can can dancers, and a bit of showbiz glam. It felt like Cockney does Moulin Rouge and it worked! The ensemble were relentless and there were some spine tingling acapella moments form them, at the start of "Wouldn't It Be Loverly" being one of them. The "Ascot Gavotte" was so articulate, precise and controlled that there was anticipation and humour in the silences provided. The ensemble were entirely synchronised as one body. It was thrilling.


My Fair Lady is classic theatre at its best with a fresh outlook and a gentle modern twist, making it bloomin' loverly!. It was like an old family photograph that had been digitally touched up. Familiar, loved, and now fresh to be enjoyed by a whole new generation. It really examines who the true gentry of high society are, those born into it who know how to speak a certain way, have money, and can converse about topics deemed appropriate, or those with the kind of class and manners that respect humanity for what is within, not what they were born into. This show is a thrilling and safe pair of hands and "With A Little Bit Of Luck" you'll get to the theatre on time before it dashes out of Manchester.
WE SCORE MY FAIR LADY...


My Fair Lady can be seen on stage at the Palace Theatre until Saturday 1st April 2023.